This is the story of two friends who live in California. Justin and Patrick were born in the same hospital, 36 hours apart. They grew up together, travelled together, faced the same challenges...
Justin is the father of two children when he learns that he is suffering from a progressive neurological disorder. His arms and his legs no longer follow the orders of the brain. Paralysis. And currently there is no cure.
He accidentally hears about the Way of St. James. He later said "I cannot say that I looked for the camino, it found me."
When he asks himself "I wonder whether I could do it in a wheelchair?" His friend Patrick answers : " I'll push you".
Patrick works in the medical field, he will look after his friend and push him all along the 500 miles of the road.
With a special wheelchair off they go two years later, from Saint Jean Pied de Port, half-way between the major French departure points and the far west of Spain.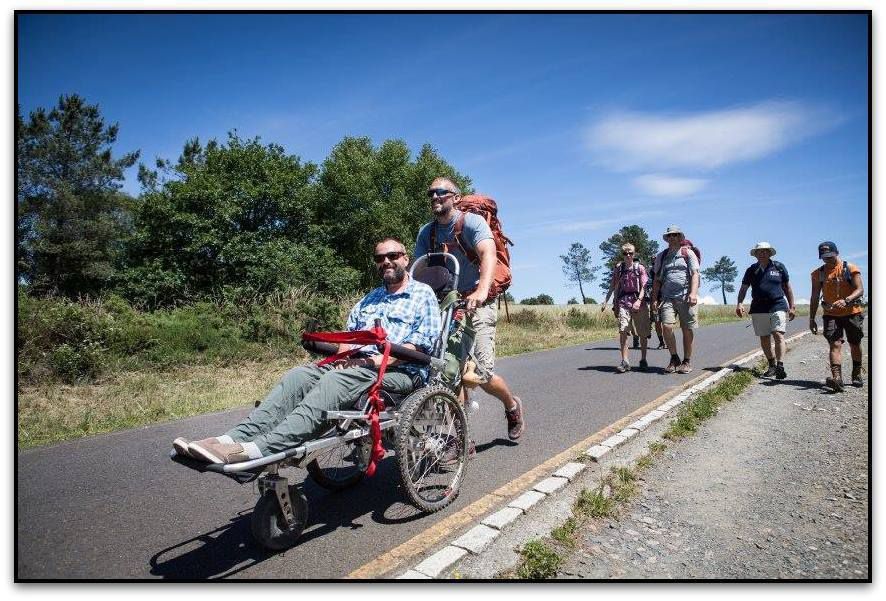 On the most difficult parts, some pilgrims volunteer to give a hand, but most of the time Justin is pushed by one man only. After 34 days they get to the square of the Cathedral of St James of Compostela.
Today Justin and Patrick give interviews, lectures and prepare a movie to share their adventure in a better way.
The Way of St James goes on…
Links to the site on request at Commentaires