A few weeks ago, you were shown the spectacular view of the presentation of a "bourdon" in front of the Nidaros cathedral.
This picture is the following event :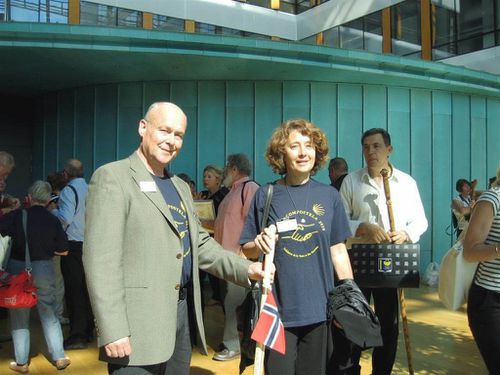 Photo : Roland Martinet
On april 28, 2010, in Strasbourg, France, during the launching of Europa Compostela, Stein Thue, on behalf of The Norwegian Pilgrims, presented it to Christiane Delattre (Compostelle 2000, Paris).
The beautiful stick with inscriptions mentions the Europa Compostela relay Paris - Santiago de Compostela (8 July - 18 September 2010).
No doubt we will let you know about the crossing of the Paris region in July.
Many thanks from the French team !
For more information about Europa Compostela in general and in France in particular,
ask the webmaster,
or write comments