| | | |
| --- | --- | --- |
| | | On the Paris Way, you'll walk across cities like Chartres or Orléans, Tours, Poitiers, Saintes, and Bordeaux. Leaving Bordeaux, you will enter Talence, a town with a university. |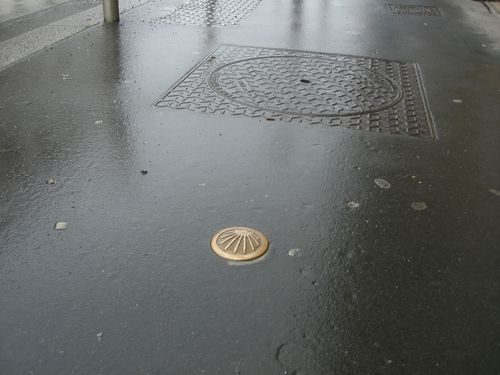 On the Way of Saint James atTalence Photo Marie-Céline Lachaud
Talence has a young population : 34,8 % of the 41 000 inhabitants are between 15 and 30. After proposal from the local pilgrims' organization, the city council has offered and installed 30 bronze marks. As a welcome sign, and to help the pilgrim find his way..
Paris : 2 millions people ! If the capital city of France had these marks in the same proportions with the number of inhabitants, you would see 1464 pieces on the ground !
Compostelle 2000, the Paris non profit organization proposes 350 marks and three directions signs, so that the Way would be made obvious to all.
Several other towns of the same Way have their bronze marks : Tours, Saint Avertin, Margaux, Le Bouscat, Bordeaux, Gradignan, Poitiers. Not to mention many other places in France !
Link to the post on bronze signs at Tours
Link to the December 2010 walk dedicated to the projet in Paris
When will Paris be equipped ?