Good news and Coindicences



Do you remember ? No, you weren't born. 1911 : Mona Lisa is stolen ! An event that made the painting even more famous. The thief had worked at the Louvre and wanted to give the portrait back to Italy, his mother country.

He thought that the masterpiece had been ... borrowed by the French during one of these many non pacific military campains on Leonardo's land.
| | | |
| --- | --- | --- |
| In fact some say he was not alone and the story was not so simple. | | |
Mona Lisa and her endless smile were found again, wrapped in a sheet of paper, under his bed.
The Codex

Mona Lisa, stolen by an Italian. It seems that the Codex Calixtinus was stolen by a ... Spaniard. The manuscript has been found again in a torn garbage plastic bag in a cardboard box in a caretaker's garage, a short distance from the city center of Santiago de Compostela. The caretaker had worked as an electrician for the cathedral.
Not just one book
In the suspect's home the police also found 1,2 million euros in cash, the keys of secondary buildings of the cathedral, and other manuscripts one of them was another precious hand-written book.
A dispute on the loss of his job would have been the main reason for the theft.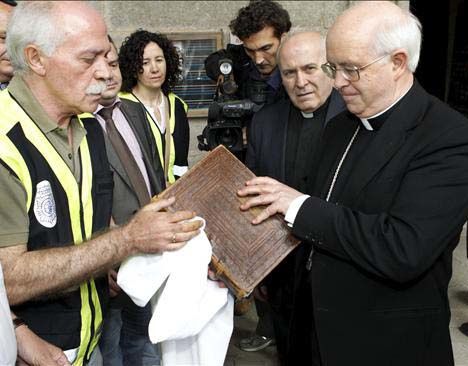 Codex given back to the Cathedral Dean Photo Correo Gallego
Funny enough, the priceless manuscript was found again on a St Antony - Mary 's day.
The blink of an eye from st Antony ?
For more information on the Codex Calixtinus, see the article published a year ago.