French Post Office, congratulations !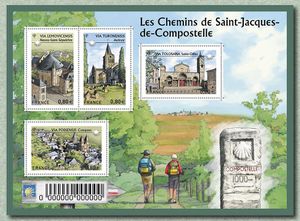 Yes, congratulations to the Post Office who are issuing 4 new stamps about the Ways of Saint James and dedicated to their monuments.
The Tour Saint Jacques (St James Tower) in Paris last year was shown on the right spot of an previous issue. In 2013, the Paris Way is represented in the shape of the Aulnay church. Aulnay is a village west of France with 1500 inhabitants, and busts one of the purest romanesque churches ever. Gorgeous proportions, and extraordinary sculptures with an Eastern influence that can be seen in the style of the ornaments or the topics themselves such as elephants ! They will be explained in a future post.
Ph. Jochen Jahnke
Aulnay lies 33 km after Melle and 23 km on foot before Saint-Jean-d'Angély where a Royal Abbey stood in the 15th century.
Do you collect stamps ? First selling day on feb 22, 2013.
Stamps available in all post offices on the 25th..