I've just had a pilgrimage experience
It is not an easy job to be a tourist guide. It demands a lot of knowledge, a lot of experience and obviously a real love for the people.

Jinglehorse (we won't tell you his real name) is one of them. American by birth, he lives in Paris and knows Massachusetts, Europe, Brazil and Texas, and other parts of the world.
He writes :
"I've just had a pilgrimage experience. Of course, I've been talking about pilgrimages for years in my comments on gothic churches : how the design of the building enables the worshiper to approach Jerusalem every time he walks from the door to the altar, and to extend the journey, there is the labyrinth…
Last week I took a group to Chartres and I made such commentary. By chance it was Friday and on that day the labyrinth was uncovered and better yet I knew it in advance, so I told my group about it. I thought they would simply look at it. I didn't expect many of them would join local worshipers and use it !
I observed them for a bit : a quiet line of diverse people were following the pattern designed on the floor. Normally a guide doesn't take part in the activities of the tourists, but wasn't this moment exceptional ? I've been talking about pilgrimages for so many years without actually undertaking a single one… and when will I have such an opportunity again ? Chartres, on a Friday… ?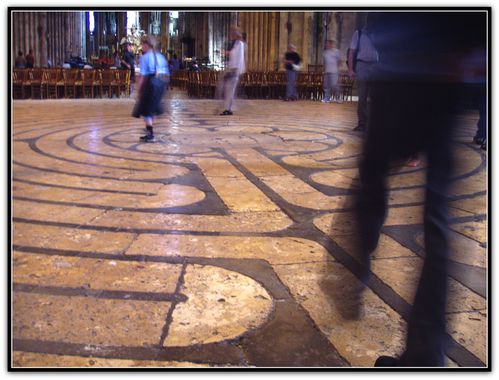 The labyrinth at Chartres : a pilgrimage in the pilgrimage
So I joined them and did the Labyrinth too. Perhaps it wasn't a true pilgrimage, a long journey across a whole country ? But perhaps not so different ?
- Some walkers had taken off their shoes. I'm not a believer, but I thought it would be great to touch the stones of the cathedral with my bare feet, and I couldn't do it elsewhere. A strange behavior in other circumstances it looked normal here ! A pilgrimage affords opportunities to act in unusual ways.
- I had to adapt to other people's pace. Some of them were people I didn't know, my state of mind and whatever may have been different from theirs but I had to mix with their collective activity . I had to be careful with their steps, their intentions, their faith or their hopes ; we were all sharing the same path.
- I quickly lost any notion of where I was on the route. Impossible to keep in mind the details of the way, I could not get out to measure, to plan the time remaining. Mainly it was impossible to do something I do all the time : the countdown. « 80 % to go, 25 % till the end » I could only carry on, with the certainty that there would be an end, and that like everyone I would get to the finish.
- In the beginning it felt strange to walk in an artificial way. After two minutes, that uneasy feeling stopped. I wasn't more conscious of walking than I am aware of sitting at mealtime, for instance. The big difference is that my body is entirely occupied with walking and I do not need to do anything else. My head emptied like when I am in bed without sleep or on my sofa when I do not use any book or computer…
I imagine that these feelings are those of any pilgrimage, among many others,
certainly…"