| | | |
| --- | --- | --- |
| | | Winter pilgrim, who walked three to four days from Paris, enjoy your luck ! |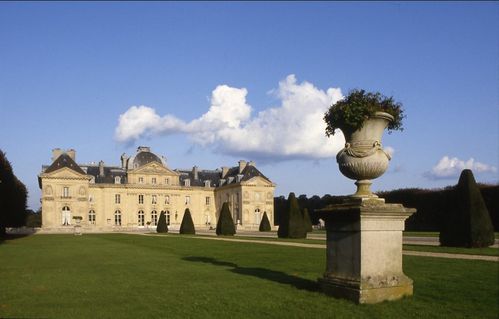 On the Way of St james, after the pretty church of Gazeran and before St Hilarion's, through the bare branches in the naked forest, you may see, on your right, a white palace, the Château of Voisins, overwhelming the river Guéville.
A recent building : elevator, service-lift, hidden central and electric heating systems, heating fans in the reception rooms. Twenty-five bedrooms only, regardless of the staff bedrooms.
A special branch of the Compagnie des Chemins de Fer de l'Ouest railtrack was built in 1903, in order to ease the unloading operations for the materials. The stones come from quarries 100 km away, north of Paris.
Comte de Fels, a diplomat, a historian and a writer had previously married Jeanne Lebaudy, the heiress of the biggest sugar fortune in france before he had the grandiose place built.
No visits. Only hunting parties in the vast grounds of the estate.
The pilgrim enjoys the proportions and goes on.