Is walking natural ?



S

ue Kenny lives in Ontario, Canada. She has written a book on the Camino she walked in 2001.

Obviously she was deeply changed by her pilgrimage. Like everyone. No wonder, so far...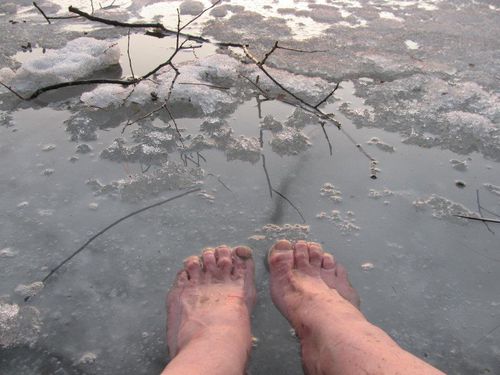 What she likes now is to walk barefooted. Yes, whatever the weather, whatever the ground. Although she rather likes moss and tender grass.

She is now walking the 260 kilometres (ca. 162 miles) between Ponferrada, the city of the Templars and Santiago de Compostela, barefoot.
"For the last couple of years, she says, the bottoms of my feet would be aching and felt bruised while walking in my boots. Apparently when we have soles disconnecting us and the ground, the sensory nerves on the bottom of our feet want to feel so badly that they push through to be as close to the skin as possible, and that's what gives us pain.
Now my sensory nerves are confident that I will give them the chance to sense the type of ground, temperature, my balance, etc

So the nerves have pulled up away from the surface so I don't feel the pain of walking on gravel, stones, roots or pavement. The body is an amazing thing".

She is now on the Way of St James, with a gang of friends who wear shoes. All is well. Surprise : a few hours after she got to Galicia, she met Andrea, an italian guy. He is barefoot too !

Her advice to whoever wants to do the same thing :
"Barefoot walking and running in the forest is the most spiritual thing ....You will find your feet, calves and shins will get very sore and tired at first because you are using more muscles/tendons etc than you usually do. Start with 5 minutes barefoot and add a minute every other day. Go slow".
Well, naturally, you may ask yourself what the most normal thing is : with,
or without shoes ?
Photos : Sue Kenny