Saint Gervais - St. Protais
Pilgrims sometimes wish some blessing on their departure.
To do so, the Church of St. Gervais - St. Protais in Paris is the best choice :



- The church is only two blocks away from the Saint- Jacques Tower .

- Saint Gervais - St. Protais is a beautiful Gothic church.

- The stained glass windows are large, they boast four pilgrim scenes, if you include the pilgrims of Emmaus.

- This is the place where the Monastic Fraternity of Jerusalem was founded thirty-eight years ago. The blessing is given there during Lauds. Morning prayer sung in polyphony is particularly moving.
You attend Lauds, you receive the blessing , you greet St Jacques Tower and the Way to St James will take you.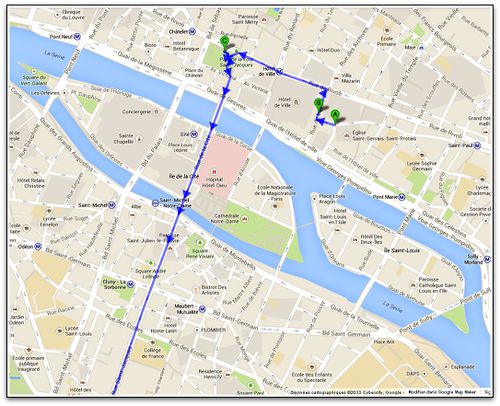 A St Gervais-St Protais church

B Hôtel de Ville (City Hall)

C St James Tower

D, E, F, G, H, etc. (out of the map) : the Way down to Spain...
Monastic life may be in the mind of the long distance walker. At the beginning of Christianity, the first monks did not live in fixed monasteries. They were homeless or living as hermits. Saint Benedict , with his rule " Pray , study and work," made the monks sedentary.
Along the way we live simplicity , silence, meditation. Normally, the pilgrim's day has many similarities with the daily life of a monk,
normally ...
Blessing Instructions: You will contact the community of the Monastic Fraternity of Jerusalem the day before departure at the latest, and arrive at the church before Lauds. Contact the blogger, he'll arrange that for you...