| | | |
| --- | --- | --- |
| | From an author to another one | |
"Take Versailles, add up Antwerp, you'll have Bordeaux."
Victor Hugo.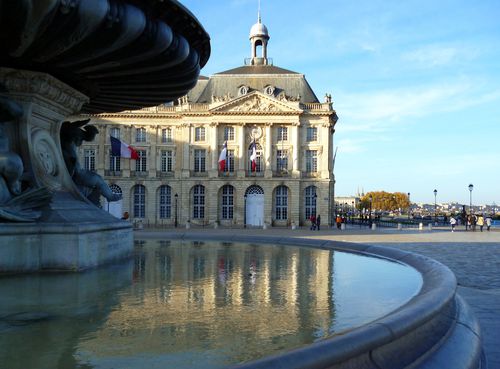 Place de la Bourse Ph J F F
And what connects the Flemish harbor to the most beautiful French port, through the Ile de France and Touraine ? The Way of Saint James of Compostela, of course !
At Bordeaux Ph J F F

The camino is an asset to the towns and villages it passes through.


The authorities of Bordeaux have understood it long ago. Bronze marks and plaques were placed throughout the city, about a hundred of them altogether.

You'll see them on Saint James st., the aptly named old way, which passes under the Great Bell, the belfry.

In that street Montaigne had his manuscript brought to the workshop of his printer.




Rue St James Ph J F F
Is the taste for roaming and meditation hereditary ? The plaque notes that Ramon Eyquem, the 16th century French philosopher-traveler's grandfather, walked the way of Saint James to the end.


He was 70 years old.
From north to south, you will find good accommodation in the region :
after Margaux, refuge at Le Bousquat, youth hostel and diocesan hospitality at Bordeaux and near Talence, albergue at Gradignan.
Map - Bordeaux, on the Paris Way (via turonensis), south-west corner of France :