Statue of Roland 1404

That strange massive statue is in Bremen, north of Germany.

Funny enough the inhabitants chose Charlemagne's nephew as the symbolic figure of their revolt against their Prince-Bishop.

Nothing to do so far with our Way of St James.

Except that he is the same Roland who, while crossing the Pyrenees (south of France) at the end of his uncle's army, got attacked by basques and lost his life. A theme developped in The Song of Roland...




A legend says that Charlemagne went as far as Santiago but there are few chances he did.
Let's have a look at another statue in Bremen :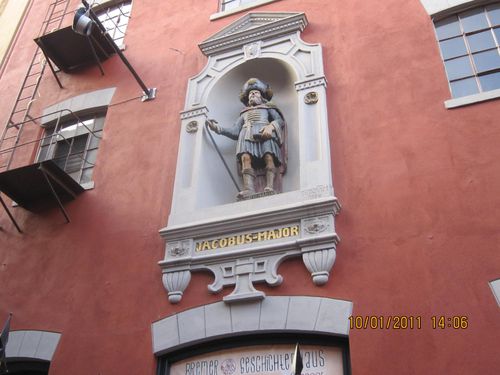 In Bremen Renovirt 1906 Photo C J
Our friends from Bremen comment : "Here is a picture of a statue of St James the Greater. We took it in old Bremen, in the Schnoor district, a historical area previously inhabited by fishermen..."
A historian would be of a great help to decide whether crowds landed in Bremen and saw that statue before they walked all the way down to Western Spain or not...
Today, the way exists, and it winds through Germany to Aachen (have a look at the map), then goes through Belgium and France on the Paris Way. After St Quentin and Compiègne, you'll get to Saint Denis, Paris, and Tours,
via Chartres or Orleans...