July 12, 2010
From Epernon to Chartres : 30 km.
Far away before Chartres the two spires of the Cathedral can be seen.
Splendour of Gothic, smiles on stone and cast iron...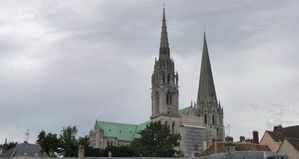 Photos Virginie Balus
The batons are transmitted to the Chartres pilgrims.
Photos Compostelle 2000
No wonder : Mission accomplished,
1625 km "only" to go...