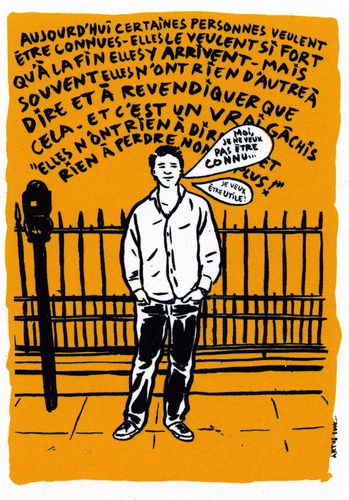 Sketch by Artus for Crédit Coopératif
"So many people only look for fame - and the guy says :
I don't care, the only thing I want is to help people."

Here is a list of famous people who are or were on the Camino :
For sure :
Patrick Poivre d'Arvor, French journalist, Godescalc, bishop, Elisabeth de Valois, princess, Aymeri Picaud, guide writer, Shirley Mac Laine, actress and writer, Louis the VIIth, king of France, Birgitta Tetersson, nicknamed Birgitt of Sweden, saint, Paolo Coelho, writer, Don Carlos, infant of Navarra, Yves Duteil, French singer, Guillaume the Xth, duke of Aquitaine, Jean Pierre Raffarin, French former Prime Minister.
Not so sure :
Giovanni di Pietro Bernardone nicknamed Francesco d'Assisi, saint founder of congregation and of convents, Nicolas Flamel, French alchemist and publisher.
Pretty sure he was not :
Charlemagne, emperor.
And in the future?
Stéphane Rousseau. The Canadien humourist decided he shall start his Way of St James in August 2011 for the benefit of Cancer Research.
Your name ? later...
Leave comments and suggest the forgotten ones.