"I'm going to hike

as long as I feel

like it."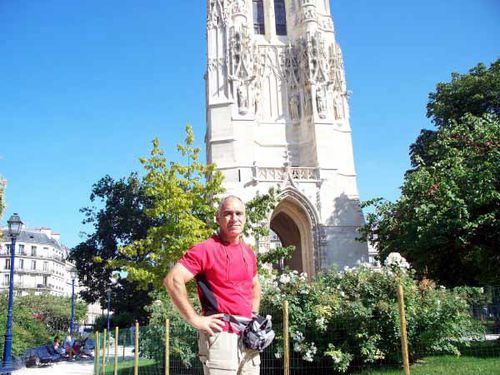 Paris, on the Way of Saint James
Thanks to Christian Desrosiers (and Pierre Alglave too).
July 2009. Christian is 54 years old when he lands from Canada at the Charles de Gaulle airport near Paris. He is starting his way to Santiago de Compostela.
The first thing he wants to do is see Tour Saint Jacques (St James Tower) in the heart of the city. Says he : "This afternoon I've decided to have a look at tomorrow's starting point. I'm glad I did... I visited the cathedral... and St James Tower, by the way it's beautiful ! Let me send you my first picture. After dinner I will go to bed early for I slept few hours only in the plane. I'm fine and feel fit to start walking tomorrow morning. See you, hugs...
And you can trust me, I feel I'm gonna hit the road !..."