| | | |
| --- | --- | --- |
| | | South of Paris... |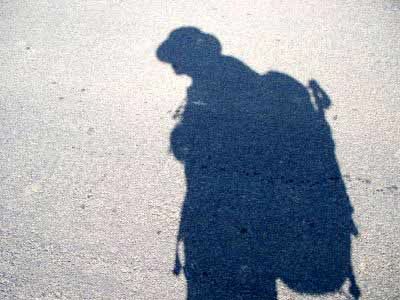 On the Way to Santiago from Paris
Thanks to Christian Desrosiers

In a previous post Christian was telling us his meeting with the Saint James Tower, in the heart of Paris, France, a landmark of the Way of Saint James.
Ever noticed ? Very often, as you start a long walking pilgrimage, you meet someone who will matter a lot for you. A little extra push to keep going...
The pilgrim who starts has also a tendency to exagerate and walk too much on the first day. No exception with Christian. He covers 36 km (23 miles) on the first day ! and the places he expected to stay in were closed or too far...
Exhausted he asks two ladies where he could stay overnight. One of them, Monique, gives him accomodation and invites him for dinner ! "Tired as I was, I accepted, with pleasure, he says. I'm better accomodated than a king, shower, drinks, interesting conversation, and a gorgious meal with her and her son Ludovic."
Thankful, he calls Monique
"my first angel on that long way."