In Spain
Our American friends regularly send news. A few words, some pictures, enough to make sure all goes well. Examples :
June 3, 2012, from Llanes : "We 've just finished our 56th day and there are 423 km to go out of 1800. "La vie est belle", still, but we've made a little change of lane.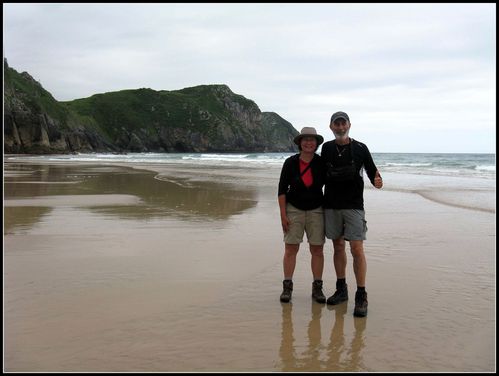 Way of St James Sand and sea
We have switched from the Camino Francès to the Camino del Norte. So, after two days of rest and visits at Burgos, we took a bus to Comillas. The Way is more difficult but the landscapes are very different. We will walk along the Ocean as far as Oviedo. Later we'll take the Camino Primitivo that will lead us to Santiago.
We are now on the coast of the Cantabric Sea."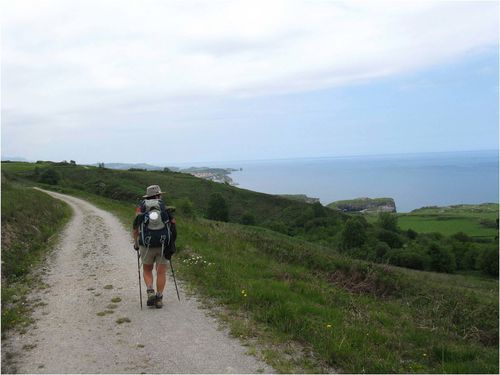 Way of St James The Cantabric Coast
June 17, 2012, from Lugo : "Good morning everyone !
Here we are in the town of Lugo on the Camino Primitivo. Four more days and we get to Santiago. We totalize 1737 kilometres. Our shoes start to become worn out. We carry on although sometimes the weather doesn't help. The views are gorgeous and the people we meet too.
See you soon,
Daniel and Luce xxx"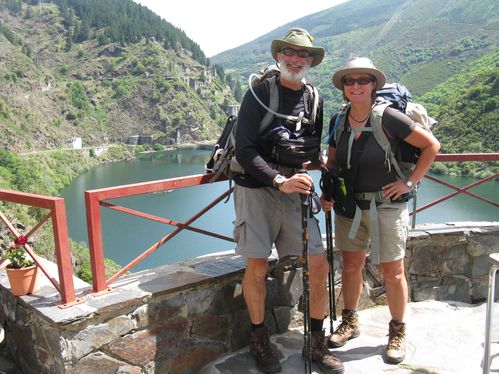 Grandas de Salime
Remember that Luce and Daniel left from Paris on April 8, 2012. Before Spain, they crossed the south of Ile de France, the Paris Region, then Touraine, and Poitou, Saintonge, the Bordeaux Region, the Landes and the Pyrenees.
The end of the Camino,
the beginning of another Way...
Pictures L & D from Pointe-aux-Trembles