from Compiègne to Paris way of st James
Inauguration of the Estelle part of the Way of St James
A group of pilgrim walkers from Compiègne has finally arrived in Paris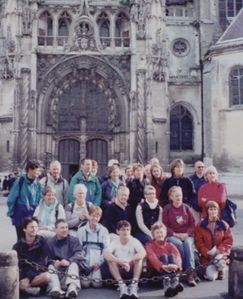 in front of the Senlis cathedral

May 30th, 2010 was the day chosen by a group of pilgrims from Compiègne to walk across Paris on foot.
That is their final part of a 5 year inauguration walk to celebrate the achievement of their work.
Compiègne Paris is a 80 km walk. The members of the Confrérie des Amis de Saint Jacques de Compostelle in Compiègne have determined the easiest and nicest way to get to Paris. The pilgrims from northern European countries use that way regularly.
From Saint Denis basilica, formerly the burial place of the Kings of France, they walked along the pleasant Saint Denis and Saint Martin Canals, a great way to get to the center of Paris without getting bothered by cars, crowds and noises.
On their way they encountered the representatives of the Compostelle 2000 association.
Together they went on through the interesting heart of the city where many traces of the medieval pilgrimage are still to be spotted. In doing so they were helped by Sophie Martineaud, a specialist of Paris jacquaire and a writer of several books about the Way of Saint James.
Lunch by the beautiful and just restored Tour Saint Jacques, and continuation of the visit up to Saint Jacques du Haut Pas church, on rue saint Jacques in the heart of the Latin Quarter.
Some of them ended their day at the Compostelle 2000 office where they were offered the pilgrim drink before they got back to Compiègne by train.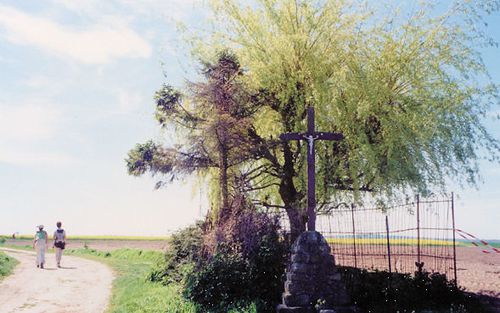 Saint Elisabeth cross before the Ecouen Chateau (museum of the Renaissance)

Map of the Estelle way : contact the webmaster for the link