Alain (Allan in French)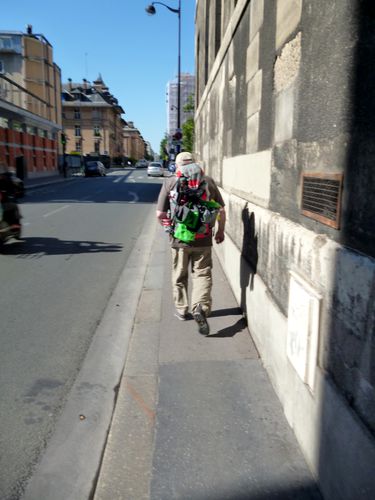 Faubourg Saint Jacques st. in Paris, Way of St james Ph J F F
Some pilgrims leave soon after their decision, others need more time to get ready. It doesn't matter. For many months Alain, another Alain, has been picking up information and training.
Saturday May 26, 2012, 9 a.m., departure time.
His wife and his friends are with him at Tour Saint Jacques to say good bye.
Eight members of the association Compostelle 2000 walk with him as far as St Jacques plaza, Porte d'Orléans, Montrouge, Coulée Verte, or Palaiseau, depending on their time schedule.
A pristine sky, a pleasant temperature, ideal weather conditions.
A moving moment when one of the few car drivers asks him :
- "Where are you heading for ?
- St James of Compostela.
- How lucky ! That's what I'm planning to do !"