| | | |
| --- | --- | --- |
| | | Holy relics |
Instead of Chartres, its pleasant scenery, a beautiful labyrinth and famous stained-glass windows, you may decide to walk to Tours, Bordeaux, Saint Jean Pied de Port and eventually Santiago via Orléans. If so, your first night may be in Massy (A), where the Tourist Office has a list of welcoming families...
The next possible stop is at the maison du Mesnil, circa 18 km (11 miles), at Longpont (F).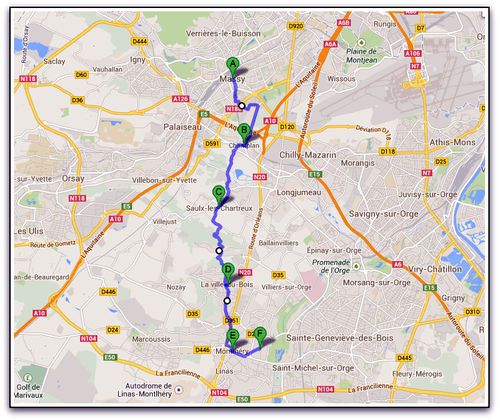 A southbound route...
At Longpont the pilgrims used to worship the Virgin's Veil. Beforehands, in pre-christian times a small statue of a woman with child was adored. It had an inscription : "Virgini pariturae". The statuette had been found in the trunk af an oak tree...
Later so many kings of France went there to ask for healing... or victories.
| | |
| --- | --- |
| Longpont yesterday | Longpont today Ph. J F F |
Today Notre Dame de Bonne Garde is shown in a well lit chapel where the walls are covered with plaques to say thank you.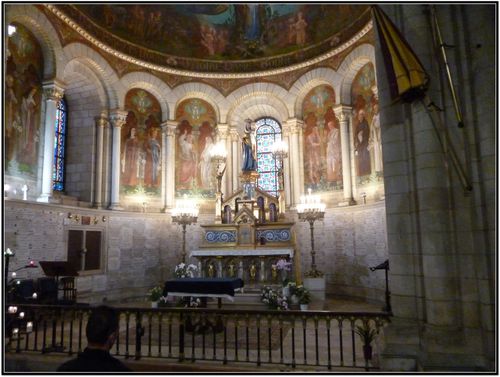 The Chapel of the Virgin Mary Ph. J F F
The amazing thing about that church is its collection of relics. On their way to Santiago the pilgrims used to walk from one relic to another one, but here, there are no less than 1400 of them ! It's a conservatory, well exposed in bright showcases.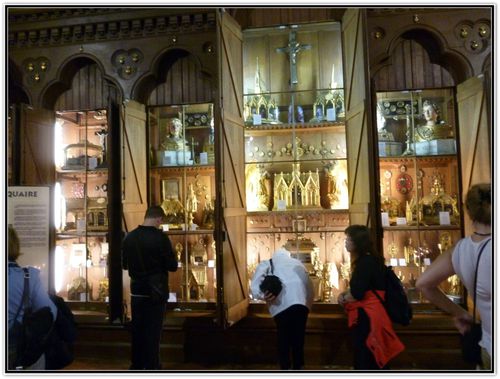 The relics Ph. J F F
Ask for more info via Ecrire un commentaire below or Contact last line of the blog.