"Thank you"
E

very year, a party of 40 people help handicapped pilgrims do their pilgrimage during 15 days.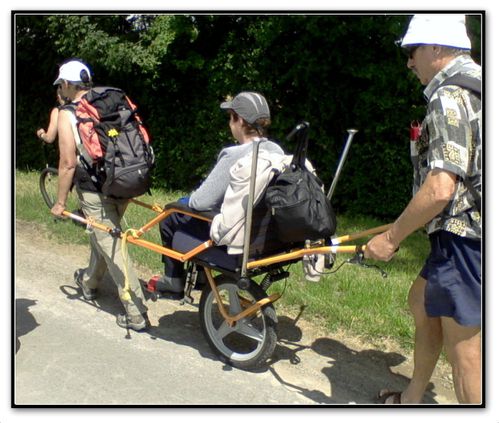 They left Paris in 2011. Last Summer they walked from Bordeaux to the Spanish border.
For the first time in 2013, Marie, a U.S. citizen, joined them. Steve, her husband, stayed in Rome (Georgia), and sent almost daily news via Facebook.
Example :
Day 7: Today a few quick observations at the end of her first week on the Camino, as gleaned from Marie's mid morning call.
The heat is still brutal. Most pilgrims are exhausted at the end of the day. The total length was sixteen miles. Every day the wheel chair folks start earlier than the others, so their support team can meet them at prearranged locations. Marie has ridden the support van for much of the day and will do that for most of the next two days.
After several days of close with contact with the special needs pilgrims, she now does not consider them as any different than others in the group. One lady who can only use one hand, captured Marie's heart today while helping her to eat, when she replied "Merci" after each bite. God's grace comes in many forms. After this first stop, the leader has a devotional then leads a song. When they resume walking, he requests that all remain silent for the next fifteen minutes.
Marie met three young men who have walked from Belgium. When they finish in Spain, the distance will be over one thousand miles.
Each day the food has been good, local, and prepared as only the French can do. Speaking of food, when Marie signed up she was instructed to bring her own plate. Now at last you can forget diets, calories, exercise, and those other weight loss fads. From simple observation over a week of food she has solved the mystery of why Americans weight more than the French. In fact she asked to reveal this discovery at the end of the trip in a short speech given by her in French to the group. This may be the world's shortest speech. Her amazing discovery, her T. J. Maxx plastic, unbreakable is about THREE times bigger than any other plate on the table. Think bread and butter plate for the French.
Now don't thank me I'm just here to help.
Steve