| | | | |
| --- | --- | --- | --- |
| | | Mens sana in corpore sano | |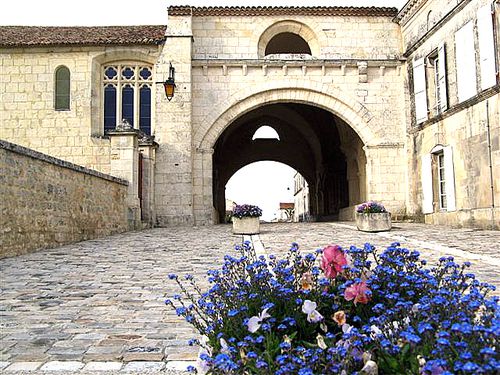 L'Hôpital Neuf Photo : O.T. de Pons
Pons is about 20 km south of Saintes on the Camino to Santiago, before your arrival at the Garonne estuary and the Bordeaux region .

Today there is a pilgrim refuge at Pons, and the Paris Way was already very important in the 12th century : "The Saint Nicolas hospital, the Tourist Office says, was too busy and showed insufficient to accomodate the sick, the orphans an the pilgrims. Geoffroy III of Pons decides then to build a second hospital called "Hôpital Neuf" (New Hospital) out of town. The founder was buried there in 1192.
| | | |
| --- | --- | --- |
| | | The Pons hospital, on the old road to Bordeaux (click on the map to see the whole Paris Way via Orléans), is the one and only remaining example of such a hospital. The plan is typical : here body and soul were cured. A covered passage way with ribs of vaults linked the church (east) with the dormitory for the sick hosts (west). |

That is the porch (topped by a tower in the past) under which pilgrims received blessed bread, shade or shelter from the rain. Sometimes ... abandonned children were left there. Grafitis in the shape of horseshoes and crosses cover the walls. The top of one of the collums shows the town emblem : an eel.

The hospital operated until
the 18th century."