Unexpected pilgrim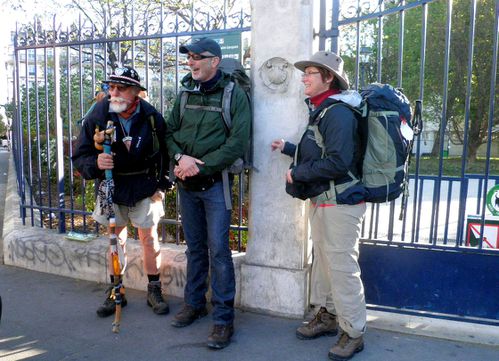 One, two, three, go ! Ph. VB
Big surprise for our Canadian friends when they were at the Saint James Tower, the starting point in Paris on April 8, 2012 : a third pigrim was there, ready to go.
Alain has come from New Caledonia for the only purpose to walk the Way of St James on the via turonensis. Noumea, the capital town of that French territory is almost the antipody of France. Only New Zealanders come from a further place.

Alain is 74 and has done the camino in many ways already.

West pillar Ph. VB

Before he took off from his home place, Alain was interviewed by the local newspaper. "Les nouvelles calédoniennes" published an article about him on March 22. As the pilgrim says, apart from religious and spiritual motivations, many long distance walkers choose the camino to "visit regions far from major busy routes, have time, meditate, get away from the daily routine, or live a simple human experience."
According to the paper, it seems that about ten New-Caledonians have walked the Way of St James in the past years.
How many Canadians ?