| | |
| --- | --- |
| | Monumental |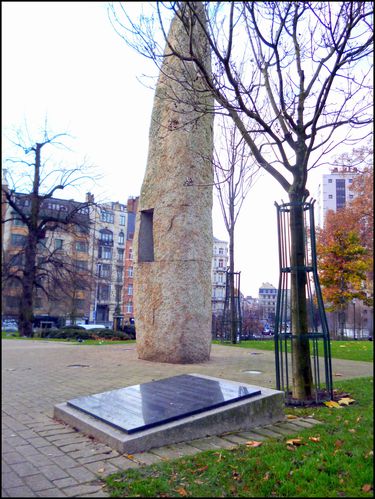 Brussel, Belgium, on the Way of St James on one side Photo J F F
Today's pilgrims have now a waymarked path thru the streets of Brussels. That's what a previous post explained.
Even better : at the exit of the old city they can dream of Santiago de Compostela.

At the Hal Gate precisely. On that spot, on the ground a surprise. The Xunta de Galicia, the local government whose headquarters are at Santiago has offered to the Belgians a big monument, in the shape of a menhir. The menhirs are these prehistoric pieces of stone erected by the Europeans throughout the continent thousands of years ago. Stonehenge is one of the many places where you can see them.

The granite menhir is close to a bronze shell and marks the departure point to the south and the south west. To Spain, but first of all, France and Paris.


On the other side

Ph. J F F
Would you like to see that in Paris as well ? Write to the tourist Office, or to the City council : Monsieur le Maire, Hôtel de Ville, place de l'Hôtel de Ville, 75004 Paris, and ask them to do the same thing.
Paris deserves shells and St James monuments just like in many other towns in Europe and in France :
and many other places of the camino...
We are anxious to see that.