An enigma ?
Jodoigne in Belgium : Sainte Marie church
France has the biggest number of twisted towers in Europe : 35 out of 79.
The Paris Way has two of them. The first one is at Jodoigne, in Belgium, about 330 km (200 miles) from Paris. The town with its 13000 inhabitants is on the via Gallia Belgica, that links Hélécine near Brussels to the capital town of France.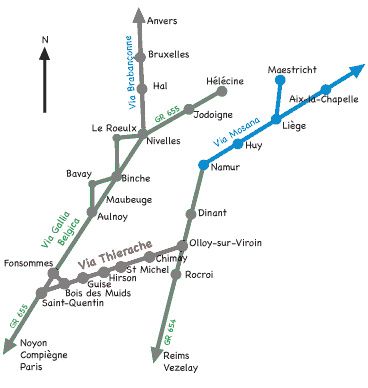 The second one is at Reugny, a charming village south of Chartres, before Tours.
Wikipedia : « A 38 metres (114 feet) high bell tower built that way in order to resist to the winds. It has an octogonal spire twisted on itself from left to right by 1/16th, covered with slate on a square tower.»
Reugny, the bell tower Ph J F F
What is your opinion ? Why do we have these twisted bell towers in Europe ? Is it to :
- Resist to the winds as Wikipedia says ?
- Follow the wood that twisted in the wrong way when it dried ?
- Please to the eye of the passersby with the help of the skill of our craftsmen ?
- Or is it because of the nasty will of the devil, too unhappy to see more and more worshippers enter the churches when the shrines were built ?
Have a guess, and leave a comment !