After the Eiffel Tower, the other tower.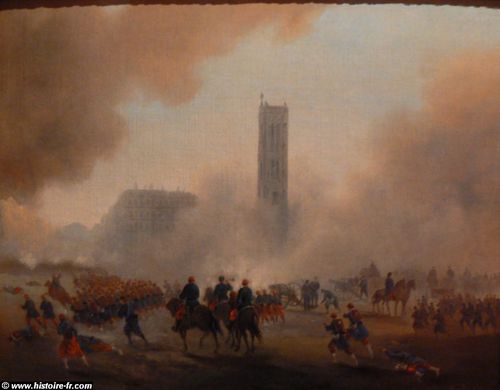 Troubles in the past : 1871
"Last Sunday, I passed near Tour St Jacques, in Paris ! Gorgious !" a fascinated pilgrim said last Summer...
Tour St Jacques (St James Tower) is the former bell-tower of the St Jacques de la boucherie (of the butchers) church. A landmark of the City of Light aged 500 years, with history and beautiful legends, as usual on the camino. The starting point of the Paris Way was open to the public for the first time in July, August and September, Fri-Sun this year. An experience which should be done again every year.
The visitor climbs the 300 steps to get to the top, about 156 feet above ground. The equivalent of 16 stories while the buildings around have 8 stories only. A perfect viewpoint to the old city center.
You'll see Notre-Dame, the Pantheon, the Champs Elysées, the City Hall and above all, the way of Compostela that crosses the city on 6 miles, plus the nice wooded southern suburbs.
Congratulations to the association who convinced the City Council that such visits are possible without any risk.
Félicitations !