Via Mosana, from Germany to Santiago via Paris and Tours
Sometimes Sylvie walks on her own... virtually so, for she always carries an incredible will away with her...
In April 2010, she takes the Via Mosana which becomes the Via Thiérache, and leads you to Noyon, Compiègne and Paris. Between Köln and Aachen she crosses the city of Duren and enters the Merode forest.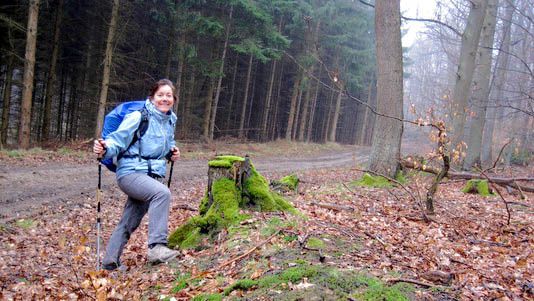 Merode Forest Photo Sylvie Francotte
As the night falls, she needs a places to sleep. She finds a wood shelter which she calls "my thousand stars hotel".
Photos Sylvie Francotte
T o warm up body and soul, a candle is burning...
On the next morning, it's almost freezing : plus 3° celsius!
Anyway, our brave Sylvie keeps her smile on her face !
She is now getting back from the French paths...