Stop in the middle of Paris, Left Bank, at the St Séverin cloister, on the Way of St James.
(have a look at the previous post about the same walk from Paris to Montrouge on november 26, 2011)
Sunshine at noon for the picnic stop. Seems the sun was also in the hearts when Paris, Saint Denis and Montrouge City Councils members came and received from the Chairman of Compostelle 2000 association in Paris, Jacques Blanc, a present and a file.
The present is a book by Sophie Martineaud who dedicated it. The file is a long list of signatures by the representatives of ca. 8000 people in France who request bronze signs in the Paris region.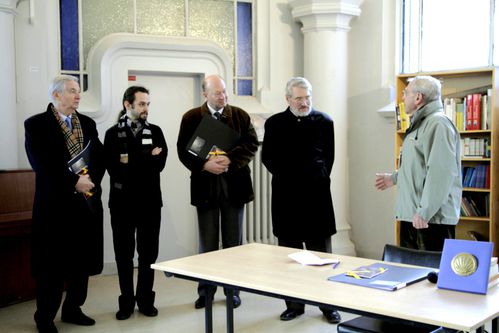 Right time on the right place Ph Freddy Mouchard
10 minutes and 5 speeches later the whole party went out of Saint Séverin heading south...
Can you read French ? see more about the project : www.compostelleiledefrance.eu
Know more about the afternoon in the next post.