Gates in a row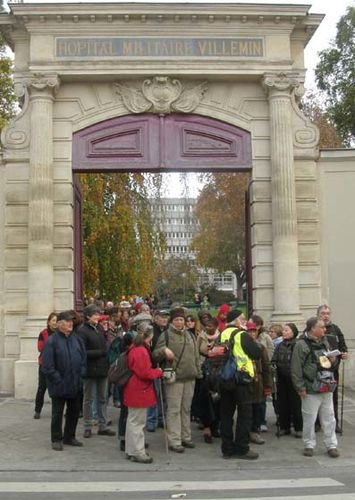 Jardin Villemin way out (Xème arrt) Ph. Jean Claude Paulet
Saturday 26th of November 2011 almost 300 walkers gathered and went from the north of Paris to Montrouge mentioned here.
Along Canal St Martin, St Martin and St Jacques streets and faubourgs, as well as at Montrouge, the long distance walkers agreed on the Compostelle Ile de France project (new site).
Lots of symbols on the way. One of them was a row of gates. Enough to change the itinerary into a path of initiation... Gates symbolise borders, limits, being apart. But when the gate is open, it's a sign of new relationship, new knowledge...

From the square in front of the St Jacques - St Christophe church in the XIXth arrondissement of Paris, where one could go meet the priest and get a camino stamp, there are 4 kilometres only to reach the heart of the City. Everyone went along the St Martin Canal then into the Villemin garden. When they went out of the garden they felt they were in town. A few narrow streets, and another gate gives way to Boulevard de Magenta close to Faubourg st Martin.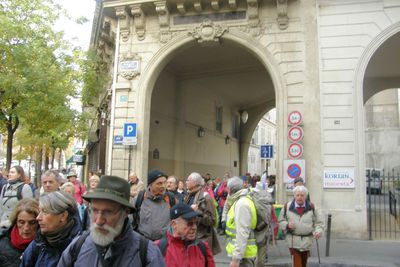 Bd de Magenta corner Ph. Jean Claude Paulet
From Faubourg St Martin, they could see Porte St Martin. The group entered then into Louis the XIVth's city . The Sun-King tried to make the St James pilgrimage more difficult, with more controls, you never know with those roaming people...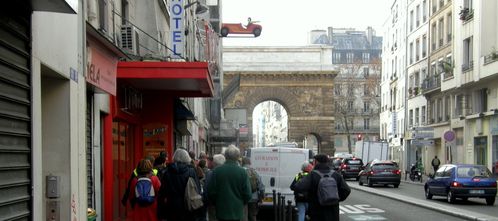 Faubourg St Martin, Porte St Martin Ph. Jean Claude Paulet
Going straight ahead, we reached the Pompidou Center. A pedestrian zone. Going is easier than ever.
Stop at Tour Saint Jacques, postcards to be sent to the City Council were given free. A big chance the mayor will get a lot of mail these days ! Sophie Martineaud, a specialist of the Way of St James, made a short speech about the tower, the facts and the legends connected with the story of an Alchemist ...
The group resumed its walk along the City Hall, across the river Seine, and the City Island with Notre-Dame and the statue of St James ("look at the shell !"). After the Viviani square, where the oldest tree in Paris goes on growing, the group entered the St Séverin cloister .
The Left Bank is the South of Paris already ! That is where a mayor and members of city councils met the group.
In a future post : the second part of the day.
« There is no better image of life than a door that opens and closes » Michel Cournot