Ground level
(See the previous post about the november 26, 2011 Paris-Montrouge)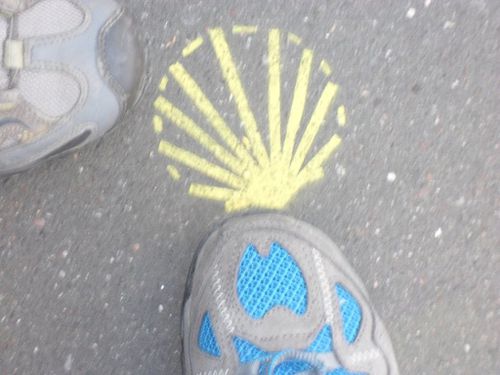 La Marque Jaune (photo Claire Ladiré)
Galician welcome drink, picnic in the sun, free coffee, a speech by the author of a book about the Paris Way of St James and arrival of the members of the city councils, a great stop at St Séverin... Everyone resumes ones walk via St Jacques st ...
On the ground some mysterious signs show the way to Santiago...
End of the day at Montrouge, the one and only suburb town to walk across before you reach green spaces on your way south towards Tours and Poitiers...
In the Montrouge church, dedicated to St James, a choir is waiting for the pilgrims. Look at the stained glass windows ! More shells than on the ground !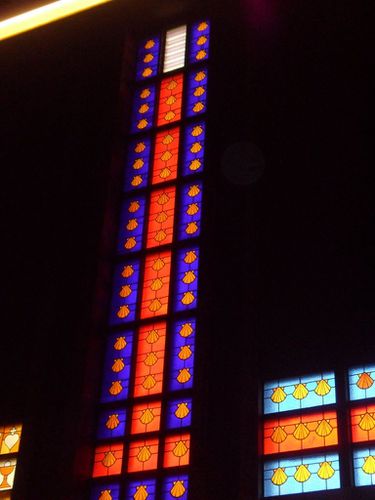 In Heaven as it is on Earth (photo Claire Ladiré)
The choir sings several kinds of musics from Mozart to popular songs. The French pilgrims hymn ends the concert : "Ultréïa" is sung by the whole audience...

To finish the day with another French touch, hot wine with spices, a traditional winter drink, was served to everyone.

Montrouge, just a mile wide before the "countryside", is a perfect way to leave Paris nicely. Hopefully the little town will have bronze signs on the ground, and Pierrefitte, Saint Denis, Aubervilliers and Paris will follow the local example.
More infos about the project in French in www.compostelleiledefrance.eu