| | | |
| --- | --- | --- |
| | | Isabelle Kyndt |
In 2012, the person of the year for sure is Mrs Isabelle Kyndt, the head of the Tourist Office at Massy.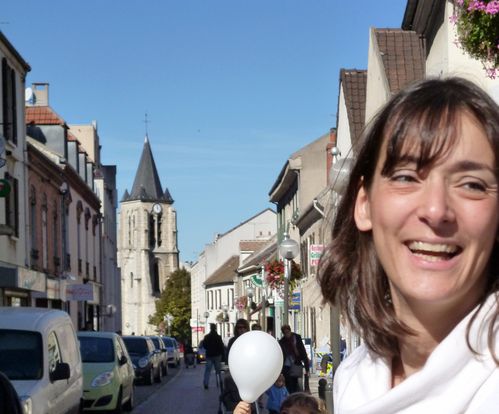 Oh Happy day ! Ph. J F F
She's been welcoming the pilgrims for a while.
"Some of them just walk along Nationale 20 road (route d'Orléans on the map above) which is unpleasant and may be dangerous!" she says.
The ones who leave from the St James Tower in the hub of Paris and decide to go wisely on their first walking day via Montrouge and the Coulée Verte park (green space exactly north of Massy on the map above) get to Massy after 15 km. (9 miles or so)
Others, coming from further north, may have slept at Saint Denis (in families homes). In one day, they can in a straight line cross Paris and follow the same route. 25 km (16 miles)
A great smile welcomes them until 5 p.m. at the Tourist Office. There, they might find a place to sleep at some other families.
"I feel so sorry, says Mrs Kyndt, when I can't find a good solution, for instance if I am not advised of their arrival early enough to accomodate them!"
So why is Mrs Kyndt the person of the Year ?
On september 30, 2012, inauguration of a great bronze shell conceived by a woman, a sculptor, Nicole Servais.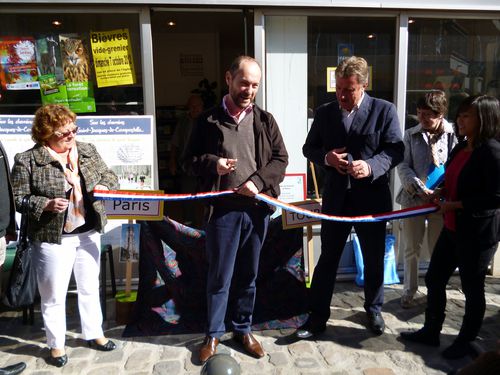 Between Paris and Tours Ph J F F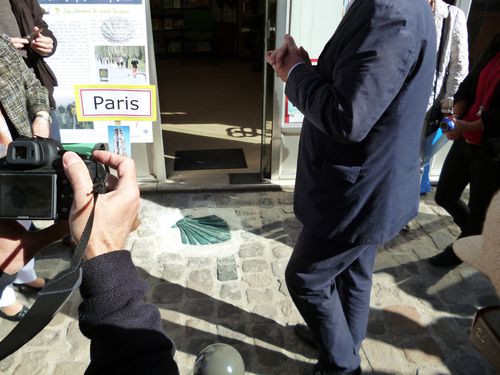 In front of the Tourist Office Ph. J F F
Design, molding, finishing, installation, organization of local walks, establishment of a discussion meeting, animation, storytelling session, creation of gastronomic specialties, launching of a website, exhibition, and finally opening, Ms. Kyndt imagined, organized, supervised it all with an attentive and caring eye.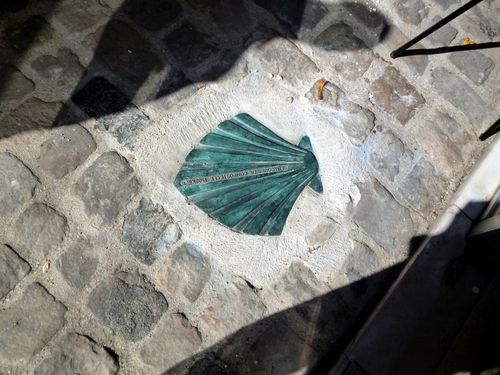 Ph. J F F
Today this 1.5 foot large shell welcomes the pilgrims and recalls that in old Massy the Great European Cultural Itinerary winds its way. A bronze mark dedicated to the Way of St James is set on the ground of the Paris region for the first time.
At last the Camino starts to be celebrated in the area of the capital of France.