| | | | |
| --- | --- | --- | --- |
| | | You should learn how to get dressed | |






V

endôme, a few steps south of Châteaudun is on

the way

to Compostela.

A

chapel of St.

Jacques,

an alignment of

bell-

towers,

a fortified gate

, a castle

,

an extraordinary welcoming population when you get in contact with the local associations.





Vendôme

lies

after

Cloyes,

before

Chateau-

Renault

. It is

by the river

Loir (without e).
Trinity Ph J F F
The Abbey Church of the Holy Trinity shows an amazing flamboyant gothic style into which the light flows endlessly.

When you look at the 16th century window that boasts St James, sided by St Christopher, one might not notice a mistake immediately. Look at it, there is something wrong.

Inattention? Malicious act from the windows installer?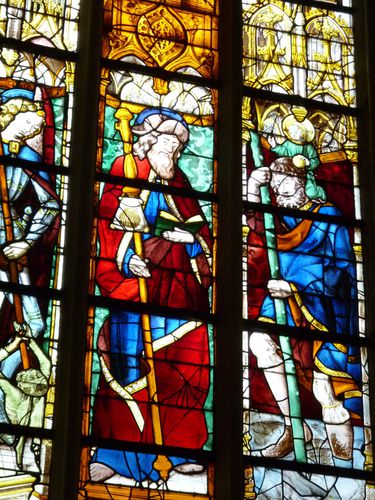 Nobody's perfect Ph J F F
Look at the low part of the dress :
It doesn't seem to fit. Guess what is wrong ? Leave a comment.