Way of St James Paris area : Accommodation
Strangers in the night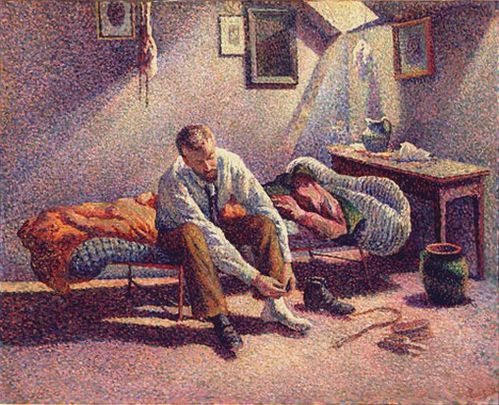 Maximilien Luce, Intérieur, 1890, 122 years ago.
The previous posts just showed you how to find your way thru the Paris Region. Now, where will you sleep ?
Compostelle 2000, a member of Fédération Française des Associations des amis des Chemins de Compostelle,
may help you.

Paris has a lot of hotels and some of them are very well located on the camino and regularly receive pilgrims. If you want to spend less, the Paris association will indicate you :

- Youth Hostels,
- Religious albergues,
- Bed and Breakfasts,
and even more for lower budgets,
- A couch or a bed in an appartment with a family .

Call Compostelle 2000 :
00 33 (0)1 43 20 71 66, Mon. thru Fri. 10 to 12 a.m. and 2 to 6 p.m.
Get there early, you will show your credencial.
Address : 26, rue de Sévigné, 75004 Paris, France
How to get to Compostelle 2000 :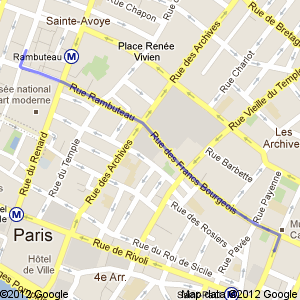 Coming from the North, the pilgrims take rue Saint Martin down. As soon as you see the Pompidou Centre (Modern Art Centre) take the street on the left (Rambuteau st.). Sévigné st. is the 8th street on the right. 26, rue de Sévigné is on the left side.
Welcome to Paris !