Presents ? How nice !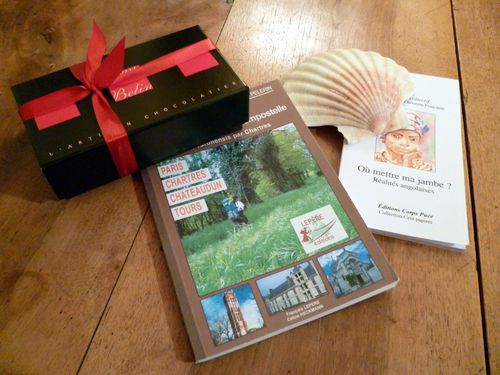 Savouring books, enjoyable steps ... ph. J F F
Thank you so much for these presents received from readers ! An (empty) scallop shell, a book with a watercolour, a guide of the Paris Way of St James, and a box of chocolates.
One of them knows I love chocolates and chocolate. She reads a lot, walks across creeks barefooted even in Winter, she likes music and is planning to hike the Via de la Plata pilgrimage to Santiago soon.
The guidebook comes from my trainee ! She knows I can get lost sometimes. She will take the leave in almost two months, on the Paris Way and she's so glad of it !
The book and the shell were offered by the lady who dared take the Camino on her own, more than ten years ago. She taught me how to blog, well I followed her advices better in French than in English, but I do my best. She is planning to go on the Camino del Norte soon.
Why these presents ? No reason, just for the pleasure of giving and for my pleasure of receiving. I got other presents on the Way, clothes when I needed a better equipment, help when I was exhausted, gifts when celebrating was a must.
How do I dare receiving ? It's mainly a lesson, while I'd prefer not to get anything. A present you do not expect might make you thankful and you would not know how to take it...
To make it shorter, I conclude that the path we are living is full of gifts from Life and from the people you make acquaintances with. Thank you again !
Khalil Gibran : "Raise your soul ... with he who gives to you,
accept his gifts as if they were wings..."