| | | |
| --- | --- | --- |
| | | Remember : a year ago, Compostelle 2000, the Paris "association" organised a walk through the French Capital City. |
The Sunday walks usually gather 30 to 80 people. From Saint Denis to the St Jacques subway station, in december 2010 the number of walkers was over 330 ! An event which was dedicated to the project to see the Paris streets marked with bronze European "way of St James" symbols of the camino.
Many towns and cities in France are equipped with such marks. See the posts about Margaux, Talence and Tours, three beautiful examples...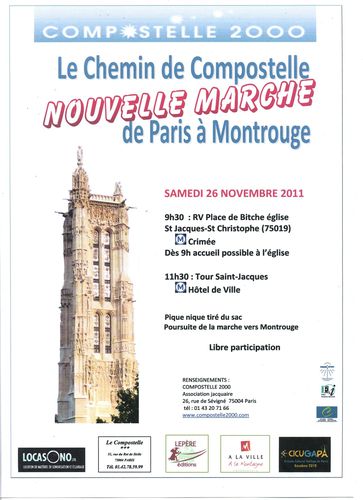 The next walk has the same target : make sure that the Paris authorities are aware of the project, and give a chance to see the result. The walkers will start from St Jacques St Christophe church (metro Crimée) , make a stop at the St Jacques tower, and resume the hike southbound. So remember November 26, 2011 and if you can, join us !
Donators (a hiking equipment shop, a publisher and a 3 star hotel called Le Compostelle - see the poster), volunteers, everyone tries his best to make that day a must. You will learn about the history and the legends of the Camino in Paris, owing to short lectures in a real friendly atmosphere that will remind you the time you spent on the Way...
Maximum length : 12 km. 2 possible meeting points :
- 9 : 30 a.m. Place de Bitche (XIXth arrondissement - Métro Crimée). The church nearby will welcome you at 9 a.m.
- 11 : 30 a.m. Tour Saint Jacques (IVth Métro Châtelet orHôtel de Ville) for the ones who like to sleep in (unusual for the camino).
End of the day in the afternoon at Montrouge.
Take your picnic along, invite your family, your friends, your neighbours, your colleagues !
Map of the Paris metro :

More info : 01 43 20 71 66
... Shall we meet ?