| | | |
| --- | --- | --- |
| Beware Track Works | | |
| | | |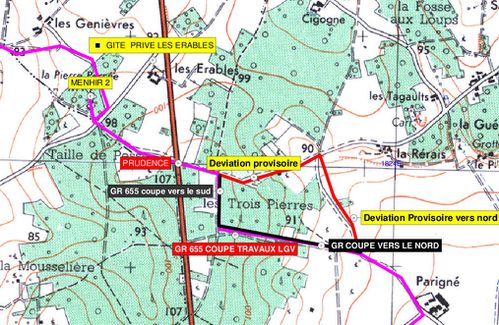 good guidebooks are accurately written. However changes sometimes occur on the Way of St James. Here is a temporary modification of the track due to the construction of the fast train railtrack. In a few years, one will get from Bordeaux to Paris in 2 hours and 17 minutes only. The duration will be the same in the other direction, as far as we know...

A huge building site is in operation for the TGV (high speed train) called with an incredible originality, LGV (high speed line).

Contrast : the place where our Path at Low Speed ​​(CPV) meets this site is a few steps away from a "menhir" a standing stone that has just brought us back to the prehistoric times. We are in Touraine, south of Sainte Maure, before approaching Poitou and the crossing of the River Creuse, north of Chatellerault.

So what do you do to get through this turbulence with the sight of bulldozers, trucks and shovels?

Not much. Our correspondent in Touraine, Jean Luc Huguet, whom we thank, gives us the solution with the plan above: after crossing the N10, continue straight along the red course entitled deviation. And continue to Parigné, The Nauzerolles and then the Clémencerie and Draché. To better see the map, zoom. Rotate the mouse wheel while holding the Ctrl button pressed.
Bon Chemin !