No wonder there are churches dedicated to Saint James on the camino...
19th district, north east of Paris : The parish church in the la Villette surroundings, where Canal Saint Martin crosses Crimée street, is St Jacques – St Christophe de la Villette.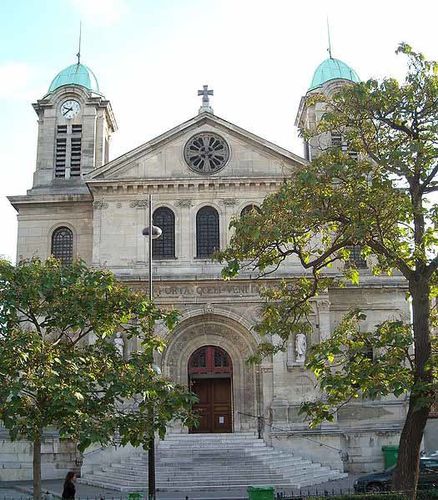 Saint Christopher, patron saint of all travellers, does that ring a bell to you ?
The church is mainly dedicated to St James because " That church located on one of the ways of St James, replaced another one buit in the XVIth century." Source : http://www.catholique-paris.cef.fr/-Saint-Jacques-Saint-Christophe-de-
" La Villette was a small village in a fertile plain north - east of Paris where cereals orchards, vegetables and vines were grown ; along that plain there was a roman way which the St james pilgrims took from the Flanders, via Senlis and from Germany to go to Paris." (Source : Wikipedia)
Therefore, long before Napoleon the first had the Canal de l'Ourcq- canal St Martin dug, a large and ancient way existed between the steep hills of Montmartre (Mount of Martyrs) and Belleville (formerly called Savies). The pilgrims came from the north and the east and stopped a while at the church, or rested there. Before they went into the city to gather at Saint Jacques de la Boucherie church, to worship the relics of Passion at Sainte Chapelle, to be marvelled by the sizes and the proportions of Notre Dame, and to go on southward via... Saint Jacques street !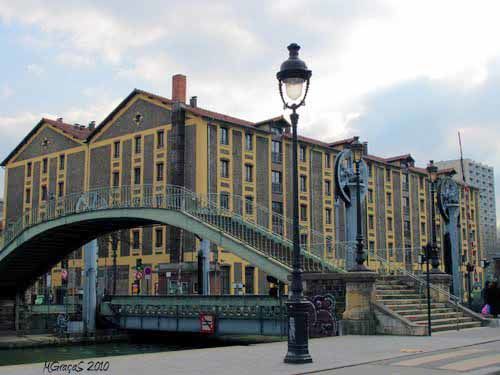 The bridges and the former wharehouses at the entrance of canal Saint Martin
Would you like to know more ?
Link to the general map of the Way of St James in Paris Way of Saint James in Paris
Link to Tour Saint Jacques, the former bell tower of St Jacques de la Boucherie church, another monument of the Way of St James in Paris.