Who else could you be ?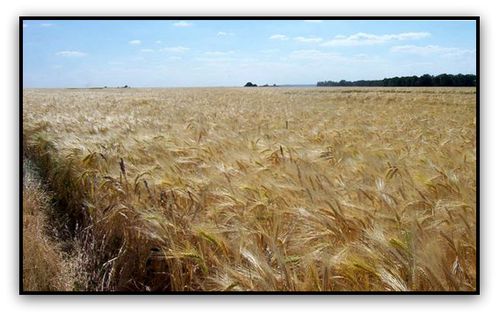 The gold of the Beauce Ph. Danielle Desjouis
Marie, this is how the other pilgrims call her.
Like all long-distance walkers she is sensitive to encounters on the way. For her, they are the most beautiful moments. From some contacts with the inhabitants of the villages she keeps a clear, intact, intense memory . Marie says:
"The meetings range from the most important to the shortest ones. In Beauce, a very flat land south of Paris, the route goes straight so you might find it a little boring, and the kilometres seem longer that km. Near Brières-les-Scellées * I see a farmer driving his agricultural machine into a large building, a few hundred meters from the road.
I go there to ask for directions. Two people inside.
Before I had time to say anything but hello, the eldest said:
- To Compostela take the left out and then straight!
I asked him how he had guessed my question, he replied :
- On your own, on foot with a backpack, who else could you be ? ...
In other words, in spite of my expectancies, he was not kidding.

Even more the youngest one came out with me to the road to tell me specifically how to get to the next house I was looking for, which is outside the village




The main road to Compostela Ph. Marie France
and at some distance from the way..."
* North West of Etampes, South of the French capital city, on the Paris Way to St James of Compostela.
Thanks to MFB and DD.