A must

Hard to find the time to visit castles and chateaux on the way to Santiago...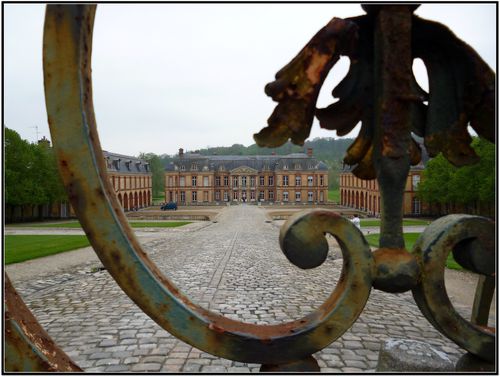 Chateau de Dampierre, how's that ? Ph. J F F
At least you can see them from the path. And very often they are worth a visit.
When you leave Paris, Sceaux is on your left. The following day after Vauhallan and its monastery (accomodation) the pilgrim towards Chartres and Tours and Bordeaux and Spain goes on near the castle of la Madeleine, and the Coubertin manor (Pierre de Coubertin is the man of the awakening of the Olympic Games).
Dampierre was built by the architect of Versailles. The gardens were designed by Le Nôtre, the gardener of Versailles...
For a short break or a nap, that's the ideal place. If you had time to go inside, you'd see a solid silver statue of Louis the XIVth, a very large fresco by Ingres, and a 9 feet tall statue of Minerva...
Go on, pilgrim ! It's a long way to Santiago ! From Dampierre, you have a choice :
- Either to walk up the hill (almost an aerial view). At the top of it you'll stay overnight at the Maison de Fer (a future article).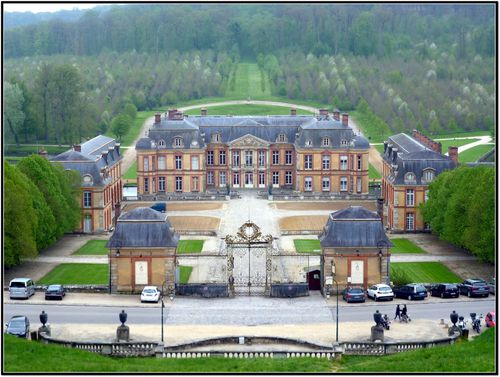 A bird's eye view from the hill. Ph. J F F
- Or to carry on through the woods and reach another "gîte" via the Vaux de Cernay Abbey. You'll sleep in a nice country house
in the middle of the Forest of Rambouillet.
Would you like a map ? Ask for one ! (comments in Ecrire un commentaire)