Happy and unhappy
Last departure

Expected news : Daniel and Luce who started their Camino from Paris have just sent a message.

"Hello everyone from Spain, more precisely from Santiago de Compostela !

Seventy three days later and one thousand eight hundred and fourty kilometres further, here we are on the plazza of the Saint James cathedral.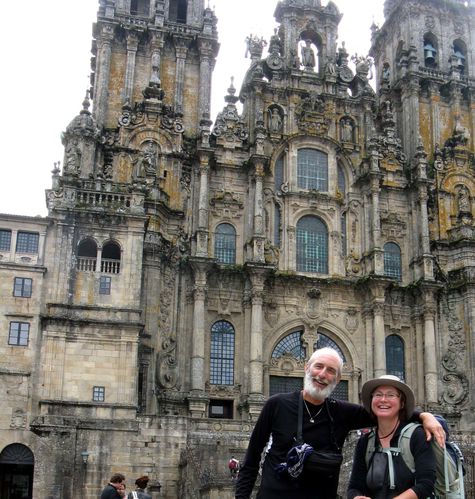 All kinds of feelings... We lack words. We feel proud, tired, glad that the camino is over and sad it ends altogether. It's as if we were "on a cloud". It's hard to realise that it is over.
Pilgrims Mass at noon. A very moving ceremony. We've been lucky to see the swinging Botafumeiro (see internet about the swinging), a giant vessel made for burning incense.

Quite a show ! We were right in the axis of the swing. WOW !

We are spending two days in Santiago to rest and Friday we will visit Finisterra. Then a bus will take us to Portugal.
By the way, we go on planning to get married. Our rings have been blessed in Spanish and in German :))) No kidding !
Till late,
Daniel and Luce, former pilgrims and pilgrims in our heart".
These last words mean a lot. Seventy three days of walk, efforts, silence, nature, people met, and probably other things as well, have been enough to deeply transform Luce and Daniel.
Congratulations to both of you, for everything :
the past, the present and the future.
To follow their pilgrimage from the start, links :
- The departure from Tour Saint Jacques in Paris
- News from near Tours after the first steps
- What they said about their pilgrimage once in the south of France
Photos D and L from Pointe-aux-Trembles, Canada